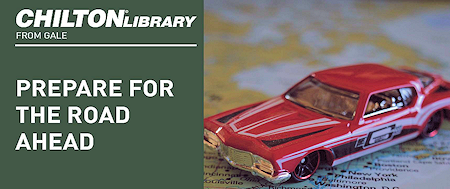 Chilton Library provides access to repair, maintenance and service information on the most popular cars, trucks, vans and SUVs on the road today, as well as, many new vehicles. This continuously updated resource provides step-by-step repair procedures, troubleshooting guides, diagnostic trouble codes, photos, illustrations, diagrams, and multimedia (videos and animations) to simplify even the most complicated tasks.
Go to Chilton Library now: http://ohioweblibrary.org/db/chilton
Use Chilton Library for:
Step-by-step instructions that provide a one-stop source for automobile repair answers.
Videos and animations that show how to complete repairs.
Close-up photos and images to enhance understanding of the text.
Wiring diagrams to help explain system operation.
Troubleshooting and diagnostic information that help pinpoint searches.
Maintenance and specification tables that highlight key information.
Quick Start Guides & Tip Sheets